Transactional email vs Marketing email. What's the difference?
October 11, 2023
&nbsp|&nbsp
2

min read

The recommendation to "distinguish your transactional and marketing email" is probably something you've heard before. What does it actually mean? In any case, what distinguishes transactional from marketing emails?
In this article, we get those questions answered as we discuss transactional emails versus marketing emails, explain what these two forms of communication are, and outline how they differ. Let's dive in.
What is Transactional Email
A transactional email is one that is sent in response to the receiver performing a certain action. Transactional emails are generally highly tailored since they contain information that is specific to the individual recipient. Maintaining communication with current clients is the main goal of transactional emails. Here is an example:
Activation emails
This example of transactional email grabs the user's attention by outlining the activation process at Skysnag, providing the next step our customers need to take after signing up.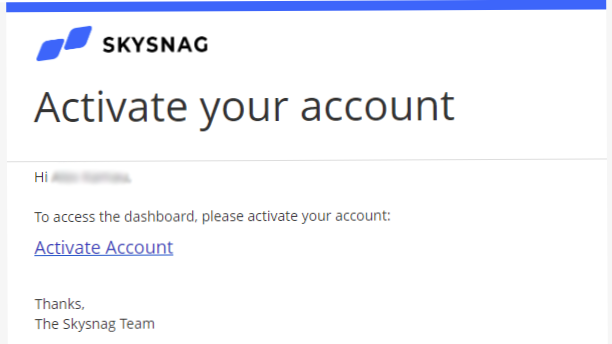 What is a marketing email?
Marketing emails are occasionally referred to as "commercial" emails because they include marketing and advertising material. They want you to do something, like buy something or download information. They are deliberately distributed at a predetermined time to a list of prospects or clients who have requested further information. Here is an example:
Product updates
A transactional or marketing email could be used to notify customers of product upgrades. However, as they are not personalized for the recipient, the majority are marketing emails.
This is an illustration of an instructive and educational marketing email from TechSmith urging the user to test out three new Snagit product updates:
Transactional email vs Marketing email. What's the difference?
Both email systems have unique features, goals, and tactical approaches. And there's a considerable probability that you'll need both for your business if you run an eCommerce website. So how do the two differ? let's find out:
The primary difference is that marketing emails, which are delivered on a one-to-many basis, have a lower open rate than transactional emails, which are sent on a one-to-one basis.
Marketing emails may be more prone to human error. While transactional emails may be vulnerable to bot assaults via spam using online forms.
The recipient's consent is required for marketing emails. Customers must opt-in to receive promotional emails, which means they can opt-out at any time, whereas you must be able to send crucial transactional emails to all customers at any time.
Conclusion
Skysnag ensures that only emails from approved senders are transmitted while protecting them from being spoofed by fraudsters. Now that you are aware of the difference between transactional and marketing emails don't let your customers down. Skysnag has automated the whole process for you. Avoid the spam folder and maintain a healthy domain by signing up using this link for a free trial today. 
Enforce DMARC, SPF and DKIM in days - not months
Skysnag helps busy engineers enforce DMARC, responds to any misconfigurations for SPF or DKIM which increases email deliverability, and eliminates email spoofing and identity impersonation.
Check your domain's DMARC security compliance