Ensure your emails
land into inbox.
Our Customers
Ensuring millions of emails land into inbox everyday for companies globally
Solutions
Email Security
Stop impersonators and prevent getting blacklisted.
Email Deliverability
Land in inbox, increase email deliverability and return on your email campaigns.
Blue Checkmark
Get your logo and a blue checkmark on every email your recipient receives from you.
Validate and Verify
Ensure your customer email lists are always updated to prevent email bounces and failures.
What you get with Skysnag
Ensure your emails get delivered straight into inbox.

Experience an increase in email open, reply rates, and domain reputation.

Maximize your email revenue to validate the resources invested in email campaigns.

Ensure your customer email lists are up-to-date and avoid falling into bounced and delivery failures.
99%
Increase in email authentication rate
34%+
Increase in purchase intent
20%+
increase in email reply rates
Compatible with your infrastructure
Skysnag plugs in all major email service providers and supports custom providers.
Reach your audience, not the spam folder.
Designed by email experts for email experts
Prevent spoofing with DMARC
Prevent impersonation by setting up DMARC policies and guiding inbox providers on handling unauthenticated emails.
Avoid blacklists
Get notified immediately if your domain is listed on DNSBLs like Spamhaus, and generate removal requests with Skysnag.
Bluecheckmark with BIMI
Have your logo and the blue checkmark on every email you send.
Zero bounce rate
Safeguard your reputation by avoiding sending to error-returned email addresses.
Verify DNS Records
Boost Your Sender Credibility with DNS Record verification, DKIM, SPF, MTA-STS, and TLS-RPT.
Email Warmups
Ensure emails sent out are recognized as verified by mail clients.
Clean Email Lists
Auto-validate and verify your customer
email list.
24/7 IP and Domain Monitoring
Keep an eye on your IP and domain health by checking your DNS setup for errors or setbacks. Get alerts about any changes that might affect your email delivery.
Battle-tested infrastructure
Rely on a platform that is able to detect and authenticate any of your active sending IP's.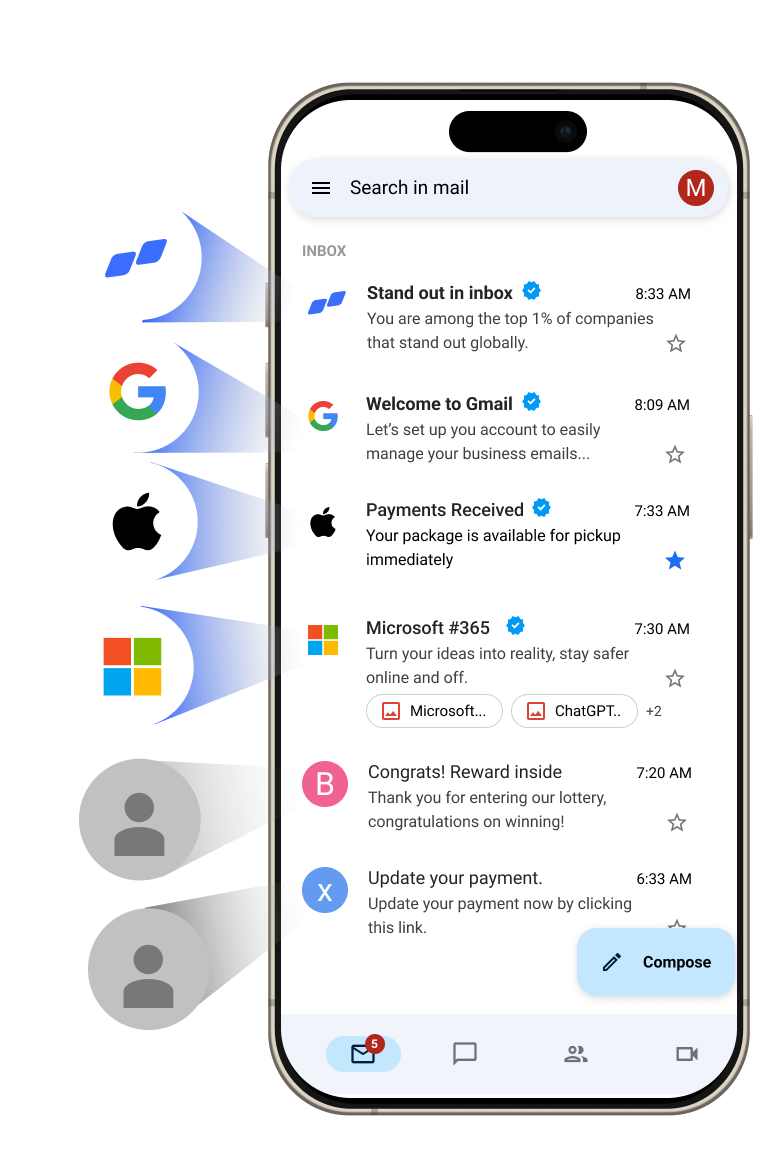 Have your logo on
every email you send
Stand out in a crowded inbox
20% increase in open rates
Gain competitive advantage
34% increase in purchase intent
Hear it from our customers
Andy Cabasso

CTO at Postaga

We are so glad we found Skysnag. Their DMARC enforcement autonomous approach has freed up 4 hours of our time every week. Before Skysnag, we were using a reporting tool that was difficult to navigate and required a lot of time.

Tony Chan

CEO at Cloudforecast

I can't say enough good things about Skysnag. When I was struggling to enforce DMARC, they saved the day. Their autonomous software approach enabled us to get our domain to p=reject without having to do anything on our end. It was a total lifesaver for our busy team.

Ruben Gamez

CEO at Signwell

Skysnag made it easy to successfully implement DMARC, protect our domain, and avoid any mistakes during the implementation process. I highly recommend Skysnag to anyone looking to set up DMARC for their domain

Derrick Reimer

Founder of Savvycal

A big shoutout to Skysnag for being the guardian of SavvyCal's email reliability! As the founder, I'm thankful for their instrumental role in ensuring our calendar scheduling emails reach our customers seamlessly.
Mazen Daccache

CEO, Teknologiia

Skysnag has become a vital asset for Teknologiia's cybersecurity suite. As CEO, I'm impressed by its dual impact—blocking phishing attacks and significantly improving email deliverability for our clients.

Dany M.

CFO, Sunset Hospitality

Skysnag has proven to be a game-changer in more ways than one. It seamlessly bolsters our email security, instilling confidence in our communications' integrity and safeguarding our finances from costly threats like spoofing attacks.

Manish K.

Lead Data Engineer at Exafluence

Skysnag guides you through the onboarding and implementation of DMARC for your domain. Onboarding is so straightforward that it eliminates the DNS concern that everyone has.

Salin K.

Sr. Consultant at Microsoft

Skysnag is a must try to avoid emails from landing into spam. We were able to detect domain abuse and safeguard our reputation.
Enterprise-Ready
Secure and preserve your brand at any scale with a high-performance solution for email authentication.Our security measures guarantee the protection and preservation of your brand at any scale. All customer data is stored in physically secure AWS facilities, featuring 24/7 on-site security, camera surveillance, and more. Our data centers are SOC 2, ISO 27001, and HITRUST certified, ensuring the highest standards of security and compliance. Skysnag is also undergoing SOC 2 and ISO 27001 audits, further demonstrating our commitment to safeguarding your brand.
Read more about Security