How to Backup Email in 2022 (Ultimate Guide) 
October 11, 2023
&nbsp|&nbsp
4

min read

Backing up your emails is usually a smart practice in case of unexpected data loss. You've come to the right site if you're unsure how to create a backup copy. In this article, we'll look at three common desktop email programs for backing up email messages (Google Takeout, mac mail, and Outlook). Let's dive right in:
What is Email Backup?
Email backup is the process of storing emails in a safe, centralized location. Emails can be safely kept and retrieved at any time in their original form. By allowing users to recover email content that may have been accidentally deleted or lost.
Why do you Need Email Backup?
Email frequently contains extremely important business information, and locating a single email may take days or even weeks. Due to the fact that backup emails are kept in one place, the danger of email loss is reduced, and your IT team will not need to spend as much time, money, or resources looking for a lost email.
How to Backup Gmail Emails With Google Takeout
1. Insert this link in your browser's Address field.
You must sign into your Google account in order to utilize the tool if you aren't already. The Google Takeout screen appears if you're logged in: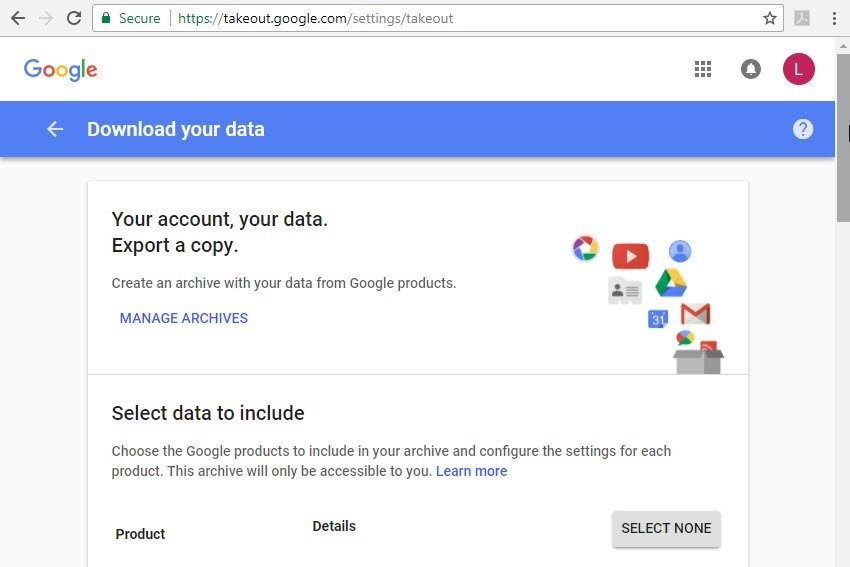 2. View the list of data that you can backup using the scroll bar on the right side of the screen: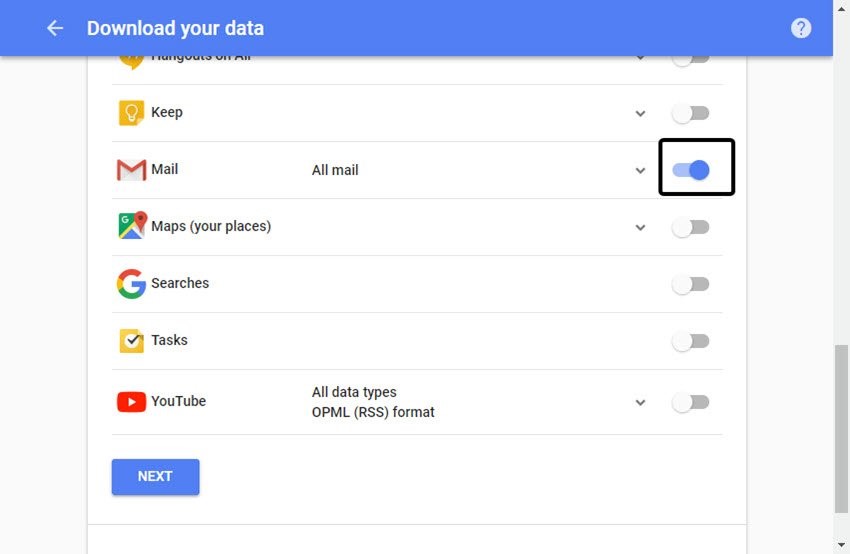 3. To back up your Gmail account, drag the Gmail slider to the right (on the right side of the screen). The panel enlarges when you click the down arrow to the left of the slider, allowing you to specify even more precisely the Gmail items you want to back up: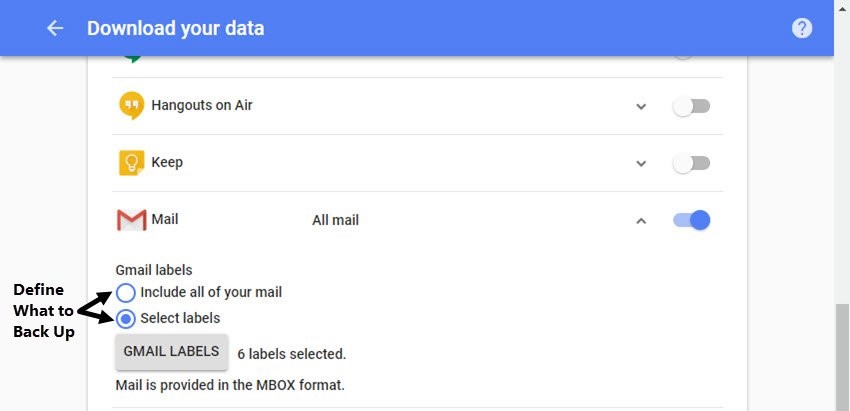 Select the following options:
Select the toggle next to Include all your mail to back up all your Gmail.
Select the toggle button next to Select labels to bring up a screen that lets you choose which labels (folders) you want to back up.
4. Select the Next button in the lower left corner of the screen when you have done choosing the data types to backup. The screen for customizing archive format shows: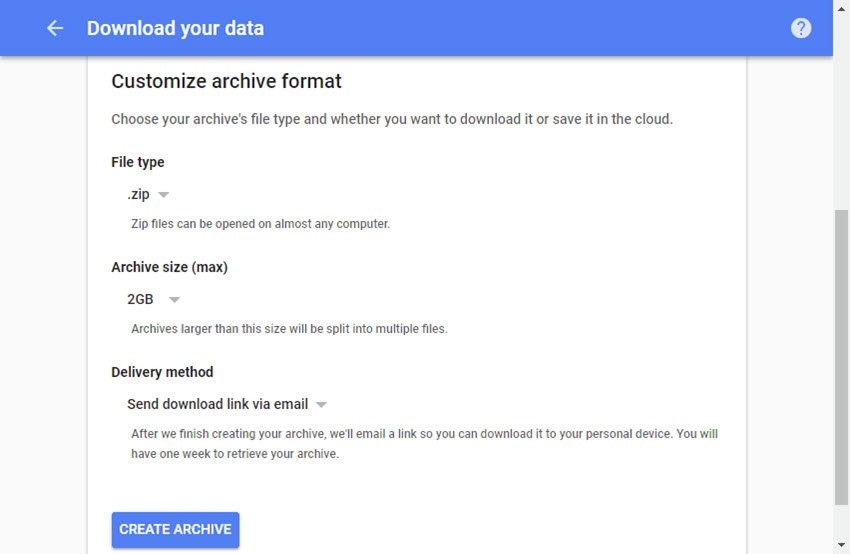 5. The Create Archive button is located in the lower left corner. Click it once you've completed choosing your archive format selections.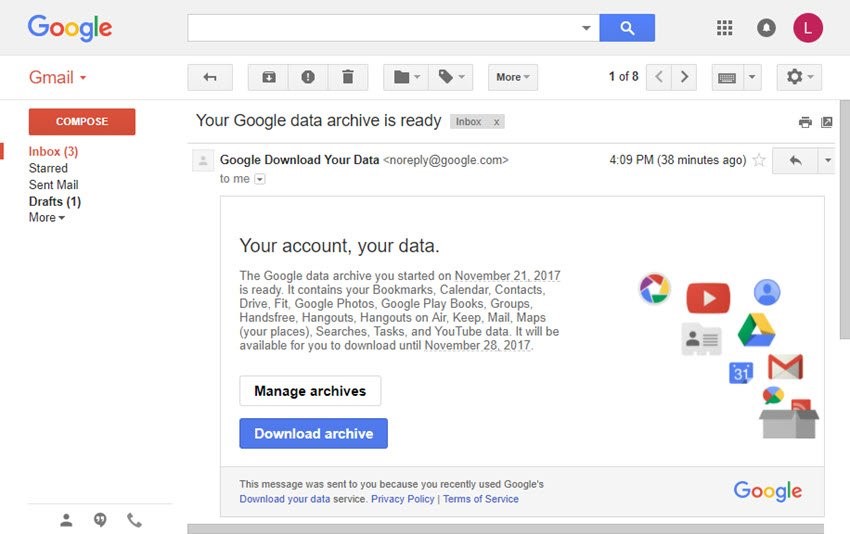 6. To access your Gmail archive, follow the instructions in the email. (Select the Download archive button as illustrated in the example above.)
Backing Up Emails on Mac Mail
Email backup is possible for macOS users using Apple Mail. If your account is already set up, move on to step 4:
Navigate to Mail -> Add Account.
Click the Other Mail Account option. Select Continue.
Fill in your email server details and Select Sign In.
Right-click the email folder you want to backup and select Export Mailbox.
Select the folder you want to go to, then click Choose. Your emails will be exported by Mail as a .mbox archive.
You have now successfully used Apple Mail to backup your email. You shouldn't have any trouble switching to another email client because the .mbox format is widely supported by all significant email applications.
Backing up Email on Outlook
Select Open & Export from the File menu, then click the Import/Export option.
Select the Export to a file option on the new window and then click the Next button.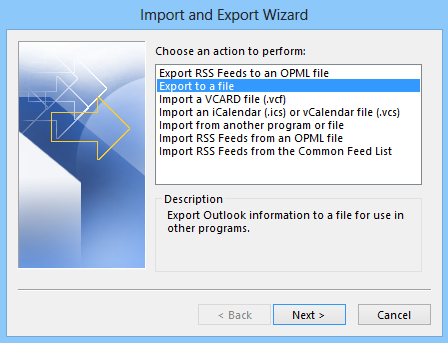 Then, select Outlook Data File (.pst) as the export format. Click Next once more
Select your email address from the list and click Next.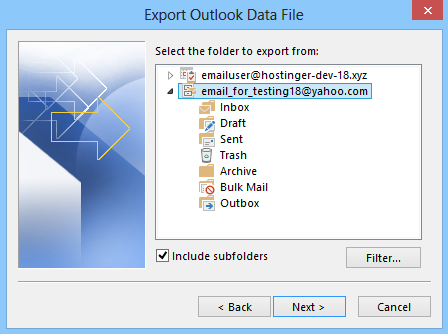 Finally, select the final destination folder and click Finish. Outlook will ask you to provide a new password for the backup, but if you'd rather not, you may choose to cancel the request by clicking Cancel.
Conclusion
Skysnag's automated software safeguards your domain's reputation and keeps your business away from compromised business emails, password theft, and potentially significant financial losses. In the event of a cyber-attack, you must have your data backed up to avoid serious downtime, loss of data, and serious financial loss. Get started with Skysnag by signing up using this link for a free trial and protect your domain from spoofing with strict DMARC enforcement, all autonomously with Skysnag. 
Enforce DMARC, SPF and DKIM in days - not months
Skysnag helps busy engineers enforce DMARC, responds to any misconfigurations for SPF or DKIM which increases email deliverability, and eliminates email spoofing and identity impersonation.
Check your domain's DMARC security compliance